Social Security Disability (SSDI) is one of the most important financial resources available for people whose disability prevents them from working. Yet, it is one of the most difficult benefits to obtain. In fact, most applicants are turned down the first time they apply for SSDI, and as a result, many simply give up. We can help.

If your SSDI claim has been rejected please contact Rice Law Office, PLLC, online or call 603-528-5299.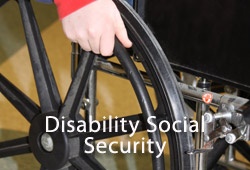 There are four primary types of Social Security claims:
1. Social Security Disability Insurance (SSDI)
Provides financial benefits to persons who have previously worked 5 out of the last 10 years, but have become disabled to such extent they can no longer work.
2. Disabled Widow's and Widower's Benefits
Provides financial benefits to widows or widowers who have become disabled within a certain amount of time after the death of their spouse. These benefits (like SSDI), require that the recipient has worked in the past and contributed to the Social Security program.

3. Disabled Adult Child Benefits
Provides financial support to children who become disabled before the age of 22, and whose parents are either deceased or receiving retirement or Social Security Disability payments.

4. Supplemental Security Income (SSI)
SSI is different than the first three types. Instead of taking into account past work contributions to the Social Security system, SSI looks at the income of the claimant. SSI is available for both disabled children and adults, although the requirements are different for each group.

In order to become eligible for SSDI you must meet several criteria:


You must not be able to meet the criteria for SGA (Substantial Gainful Activity)
You must meet the definition of severe impairment as defined by the Social Security Administration (SSA)
You must have an impairment lasting at least 12 months or longer, or an impairment which is terminal
You must be unable to work at your former job
You must be unable to perform other available work
You should know that even people who very easily meet these criteria can have their claims rejected. If your claim is turned down, you can request what is known as reconsideration,  which means your claim will be reviewed again. You are not required to have legal assistance during the appeals process, but you may seek the assistance of an attorney to help you with the process.

At Rice Law Office, PLLC, we will work with you to help you understand the Social Security Administration's procedures and to effectively prepare documentation to help achieve a successful outcome for you.

The initial approval process can take up to three to six months. We advise all of our clients to organize the necessary paperwork before applying for benefits. You will need the following information to support your claim:
Original or certified copy of your birth certificate
Social Security numbers of all persons applying for benefits (including spouse and/or children)
Dates of any prior marriages if your spouse is applying for benefits
Proof of earnings for the past 12 months, if you previously were able to work and have recently become disabled (proof of earnings can be a copy of your W-2, federal tax return, pay stub or a statement from your employer)
Names, addresses and phone numbers of doctors, hospitals or clinics who have treated you
Medical records and dates of treatment from your doctors, hospitals or clinics
List of all the medications you are currently taking

After you have supplied all the pertinent documents and applied directly to the Social Security Administration (SSA), you will either receive an approval or rejection. If your claim is rejected, the SSDI team at Rice Law Office can help you. Here's how:

Rice Law Office will:
Make sure your disability is described using the wording most commonly recognized by the SSA
Review all statements included in your application
Review your forms to make sure all paperwork is properly completed
Review and discuss your medical treatment to be sure that your care is consistent with your claim
Where appropriate, work with your treating physician to help get accurate descriptions of your medical condition, which address the concerns of the SSA.
Living with a disability is already challenging enough. You shouldn't have to spend months of your time fighting with the SSA over benefits that you need to live a normal life. You have a right to financial assistance when a disability prevents you from working.
Call Rice Law Office at (603) 528-5299, or contact us here.