In these challenging economic times, employers need to maintain a lean and efficient bottom line. In order to do so, employers need to establish and maintain sound, compliant employee practices. The fact is, one law suit from an employee can be all it takes to tip the balance of success you have worked so hard to maintain.
The growing number of state and federal employment laws are difficult to keep up with and failure to comply can result in devastating consequences, especially to a small business. The thought of spending 'unnecessary' money on handbooks and training can seem impractical on a tight budget. Some business owners turn to templates off the internet, knowing they are not New Hampshire compliant, but hoping they are 'close enough'. Others lie awake at night wondering, "what's the worst that can happen?" until "it" happens, and they learn that the cost of preventive advice was trivial compared to the cost and stress of litigation.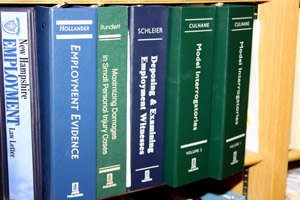 At Rice Law Office, PLLC, we can provide limited advice regarding a particular employee or matter, or we can provide wide ranging representation and advice on everything from hiring and training employees, preparing, reviewing and revising employee handbooks, properly maintaining personnel files, complying with posting requirements and regulations of the Department of Labor (DOL) and the Department of Employment Security (DES). If necessary, we are here to represent you in Workers' Compensation, unemployment, Human Rights Commission or Equal Employment Opportunity Commission (EEOC) matters. We also provide advice regarding contracts, non-compete agreements, restricted covenants, confidentiality and privacy issues, termination, layoff and severance.
Oftentimes, businesses learn about posting requirements for discrimination and wage laws or even how to properly hire and fire employees after it is too late. Most mistakes could have been easily prevented through training, documentation and well developed complaint policies. The cost to review your policies and practices does not need to be prohibitive. Cost depends on the size of your business, the nature of your service or product and the quality of the policies and training you have in place.
Call Rice Law Office at (603) 528-5299, or contact us here.